17.4.2023
European Training and Cooperation Activities (TCA) Erasmus+ Seminar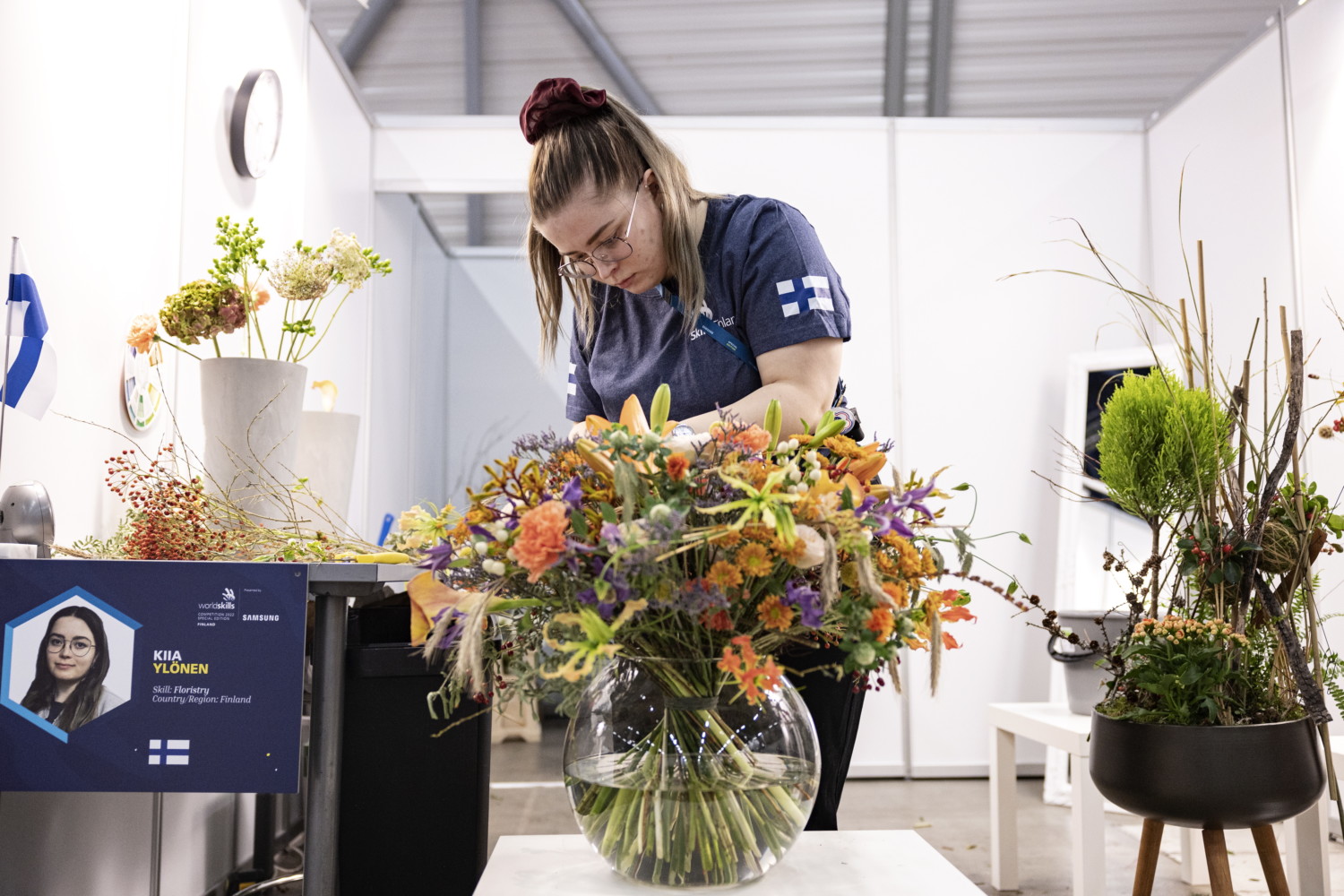 "Promoting VET Excellence through Skills Competitions"
May 8th – 11th 2023 organized in cooperation with Finnish National Agency for Education, Skills Finland and Omnia.
Participation only by invitation.
The seminar brings together 70 participants from 23 different European countries representing various expertise in the field of vocational education and skills development.
In addition to addressing the gained Vocational Excellence in the framework of Skills Competitions the seminar contributes to the European year of Skills 2023 proposing and supporting measures such as
Investments in training and upskilling
Ensuring that skills are relevant for the needs of the job market
Matching people's skills and ambitions with opportunities on the job market
The seminar approaches skills development in a holistic way: skills that help for professional development, including basic and social skills, but also skills that all citizens need in their daily lives, including life and transversal skills, and skills to strengthen sustainability, democracy, and social inclusion.
The seminar supports the creation of new networks and project idea as well as facilitating the planning of future cooperation in the context of the Erasmus+ programme.
PROGRAMME
Monday, 8th May
/
Official Opening Reception
Opening of the seminar, Ms. Päivi Korhonen, Director of Public Affairs, Omnia
Presenting the organisers:
Ms. Sari Turunen-Zwinger, Head of Unit, Finnish National Agency for Education
Ms. Maria Ekroth, CEO, Skills Finland
Ms. Tuula Antola, General Director, Omnia and Mr. Thomas Vasenius, Taitaja2023 Competition Director
Networking; Ms. Sari Rehèll and Mr. Mika Heino, International Affairs Specialists, Omnia
Dinner; Get Together Buffet
Tuesday, 9th May
09:15 – 09:30 Welcome and Opening words of the Seminar

Ms. Kati Valtonen, Head of International and Project Services, Omnia

09:30 – 09:45 Presentation of the seminar objectives and the agenda

Ms. Sari Rehèll, International Affairs Specialist and Mr. Mika Heino, International Affairs Specialist

09:45 – 10:45 Keynote: Future needs of Skills in the Transformation of Working Life
10:45 – 11:00  Reflection to the Keynote: The point of view from the Vocational Education perspective

Ms. Hanna Autere, Counsellor of Education, Finnish National Agency for Education

11:15 – 12:30 Building excellence through Skills Competitions and Individual Experiences of Learning Benefits and Skills Development: Presenting the perspectives of the educational institution as well of the teacher and the learner

Ms. Teija Ripattila, Chair of the Board, World Skills Europe
Ms. Maria Ekroth, CEO, Skills Finland ry
Ms. Marja Hemmi, Director of Hospitality and Culinary Education at Perho
Ms. Margit Tennosaar, Teacher, Helsinki Business College
Mr. Heikki Miinalainen, Competitor of Web Technology

12:30 – 14:00 Lunch at Restaurant Henricus
14:00 – 15:15 Tour of SEVE-n Learning Environments of Omnia

Omnia Team of International Affairs Specialists

15:15 – 15:30 Coffee break
15:30 – 15:40 Success Plan, the New Strategy of Omnia: Enhancing the development of skills and cooperation with working life for the future skills

Ms. Tuula Antola, General Director, Omnia

15:40 – 16:00 Individual Learning Pathways to VET Excellence: Addressing the key element of Finnish Vocational Education System including the Study Unit of "Working as a Top Performer"

Mr. Mika Heino, International Affairs Specialist, Omnia

16:00 – 16:30 Skills Development and Job Market Needs of the future

Mr. Kari Nyyssölä, Senior Advisor, Foresight Unit, Finnish National Agency for Education

16:30 – 17:15 Vocational Education and Needs for Future Skills in Ukraine

Ms. Viktoriia Karbysheva, Head of the Expert Group on Education Content and Quality Assurance, VET Directorate, Ministry of Education and Science
Ms. Valeriia Shmatova, Senior specialist on public relations and press, Association of Enterprises Ukrmetalurgprom

17:15 – 17:20 Thank you for the day and information about the evening
17:30 Transportation to the hotel
Wednesday, 10th March
09:00 – 12:30 Taitaja2023: Visits to two different locations; Automobile Technology at Suomenoja and other Skills Categories at Tapiola Sports Park.
13:00 – 14:00 Lunch at Kalastajatorppa
14:30 Transportation to the afternoon venue Kiasma
15:00 – 15:10 Introduction to the Programme
15:10 – 16:00 TaitajaPLUS: Skills categories, aimed at students in need of special support, the competition length is slightly shorter than usual, and the competitor's special needs are considered

Mr. Petteri Ora, Development Director of Kiipula Foundation and a member of the board of IAF EXCO
Mr. Jussi Väisänen, Coach

16:00 – 16:30 Keynote: Meta Skills and Entrepreneurship

Ms. Satu Järvinen, Founder of SkillsSafari

16:30 Coffee Break
16:45 – 17:00 Governance for Inclusive VET Excellence (GIVE): Teachable Practices of Transition to Work for Inclusive Vocational Excellence

Ms. Sari Rehèll, Unit Coordinator of GIVE project

17:00 – 17:30 Collective Exercise for Future Cooperation and Project Ideas

Ms. Sari Rehèll, International Affairs Specialist, Omnia
Mr. Mika Heino, International Affairs Specialist, Omnia

17:30 Closing statements and the end of the seminar
For more information please contact
Sinua saattaisi kiinnostaa myös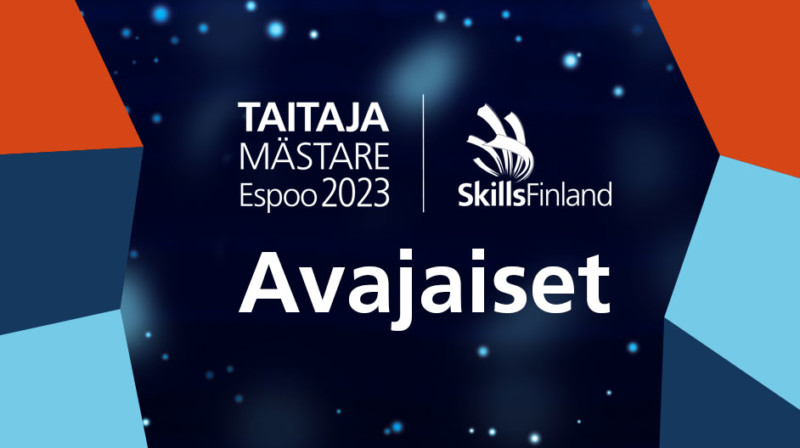 Milloin: Maanantaina 8.5.2023 klo 14.00–15.30Missä: Tapiolan urheiluhalli, kutsuvierastilaisuus Katso Taitajan […]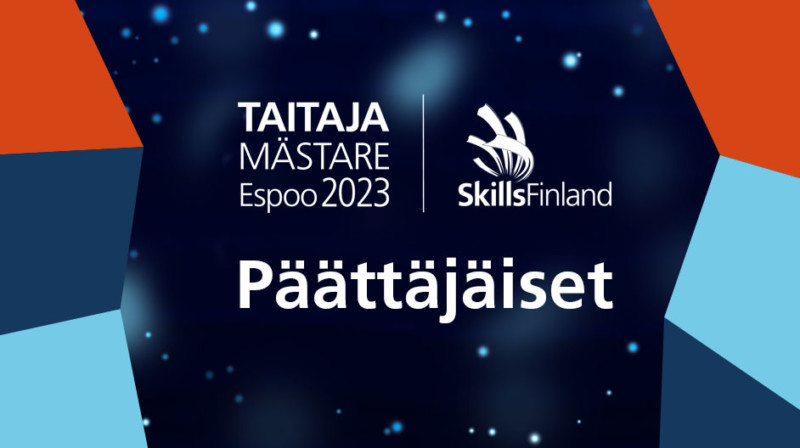 Milloin: Torstaina 11.5.2023 klo 14.45–16.30Missä: Tapiolan urheiluhalli, kutsuvierastilaisuus Seuraa lähetystä […]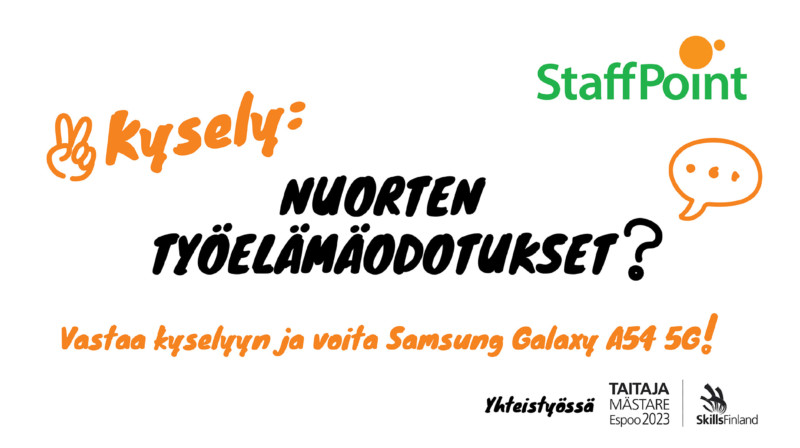 StaffPoint on mukana Taitaja2023-tapahtumassa yhtenä pääyhteistyökumppaneista. StaffPoint on yksi Suomen […]